On the back of disappointing earnings from Facebook and Netflix, AAPL stock dipped into its earnings release, but as the company's stellar results just showed this may have been a bit premature, because Tim Cook's company just reported blockbuster earnings including its first ever $100BN quarter, around in its iPhone 12 release quarter.
Here are the details:
Q1 Rev. $111.44B, beating expectations of $103.12B, and up 21%from $91.8 billion Y/Y. This, as expected, was the company's first ever $100BN+ quarter.
Q1 EPS $1.68, beating expectations of $1.42, and up 35% Y/Y
Q1 iPhone Revenue $65.60B, beating expectations of $60.33B
Q1 Products Rev. $95.68B, beating expectations of $88.21B
Some more details from the quarter:
Q1 Wearables, Home & Accessories $12.97B, Est. $11.84B
Q1 Mac Revenue $8.68B, Est. $8.86B
Q1 iPad Revenue $8.44B, Est. $7.57B
The closely watched Services soared to $15.76B, beating expectations of $14.89B…
… and up 23.9% from a year ago.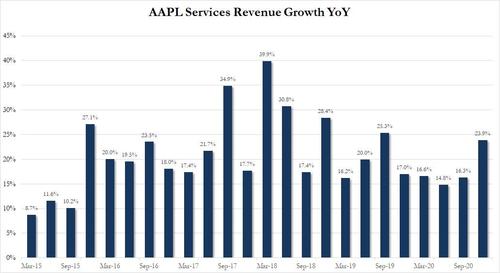 Also remakrable was the surge in Chinese revenues, which soared by a whopping 57% Y/Y…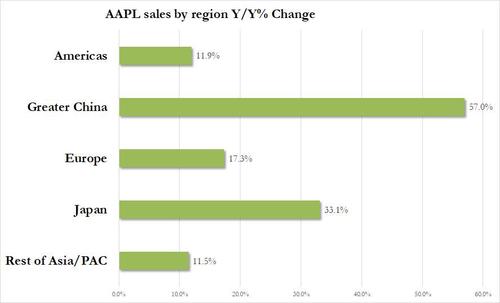 … to a record $21.31BN.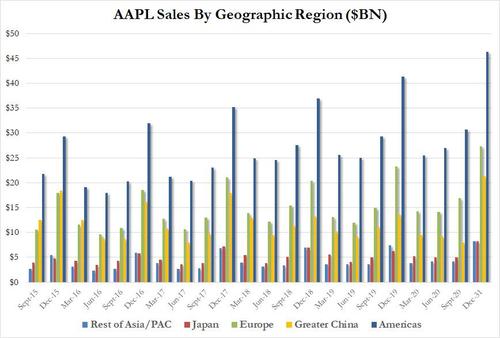 One potential negative: even in the company's record quarter – the one where the iPhone 12 was introduced – the company still can't meet its iPhone sales hit back in 2016-2017, confirming that Apple's iphone is no longer the must have accessory it once was.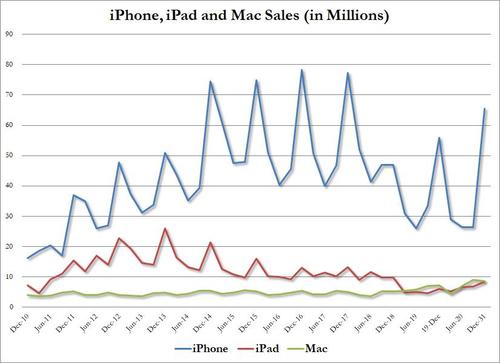 Commenting on the quarter, Tim Cook said that "this quarter for Apple wouldn't have been possible without the tireless and innovative work of every Apple team member worldwide. We're gratified by the enthusiastic customer response to the unmatched line of cutting-edge products that we delivered across a historic holiday season. We are also focused on how we can help the communities we're a part of build back strongly and equitably, through efforts like our Racial Equity and Justice Initiative as well as our multi-year commitment to invest $350 billion throughout the United States."
Perhaps indicative of just how priced to perfection Apple was, however, the stock has barely budged and after some initial kneejerk moves both lower and higher, it was virtually unchanged from the close.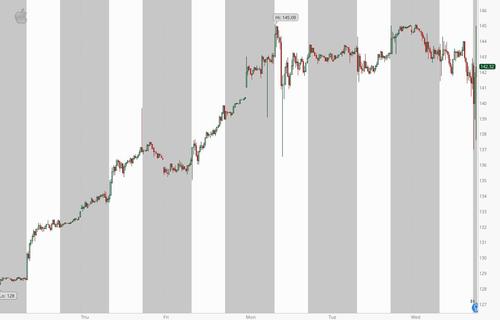 Indeed, as Bloomberg explains the lack of reaction, "expectations had been sky high for the company on suggestions of a new iPhone "super cycle," spurring a stock surge in recent months. Apple also recently introduced other new devices, including an updated Apple Watch, and demand increased for iPads, Mac computers and services from consumers working and studying from home during the pandemic."
So yes – amazing quarter, but not that amazing to push the stock to a new permanent plateau.