It appears someone paid Netflix's "Tiger King" star Carole Baskin via Cameo, a video-sharing website where users can pay for video messages, to pump a penny stock that resulted in a parabolic move in Zomedica. 
According to Yahoo Finance's Zack Guzman, "Carole Baskin tells me her Zomedica mention that may have triggered a 230% rally in the penny stock came from a $299 Cameo request." 
"It was a Cameo they paid for. I don't hold any stock in the company and don't make stock recommendations," Baskin told Guzman. 
Parabolic Rise In Zomedica On The Baskin Pump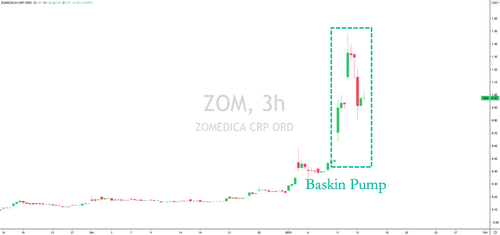 Here's the video of Baskin discussing penny stock Zomedica, a small Michigan-based company producing products to improve animal health. 
"I don't know if you guys have heard about Zomedica, but they help our veterinarians and our furry friends…" 
Hey all you cool cats and kittens,

Carole Baskin mentioned penny stock Zomedica $ZOM in a video last week.

Since, it's up 230% and yesterday more than 1 billion shares traded pic.twitter.com/dxySl4cNZv

— Sarah Ponczek (@SarahPonczek) January 12, 2021
Analytics firm Breakout Point said Zomedica was one of the most actively traded penny stocks by volume on Robinhood.
6 of the top 10 most active stocks yesterday were priced under $1 and combined for 2.6 billion shares or 18% of the entire stock market. pic.twitter.com/mHdPsF5ygW

— Joe Saluzzi (@JoeSaluzzi) January 12, 2021
Besides someone paying Baskin a few hundred dollars for a classic pump and dump scheme, in sign speculation may have reached a new high, Tesla CEO Elon Musk recently tweeted "Use Signal," an encrypted messaging app as an alternative to WhatsApp or Facebook Messenger. 
However, since the market is caught in a speculators paradise, the first immediate thought that flowed through the minds' of Robinhood traders after Musk tweeted was to buy an unrelated penny stock called Signal Advance – with no full-time employees other than the CEO  – which surged more than 1,000%. 
Expanding more on record-high euphoria in stocks is Citi's Tobias Levkovich, who points out Panic/Euphoria model this week is at a record high, "generating a 100% historical probability of down markets in the next 12 months at current levels."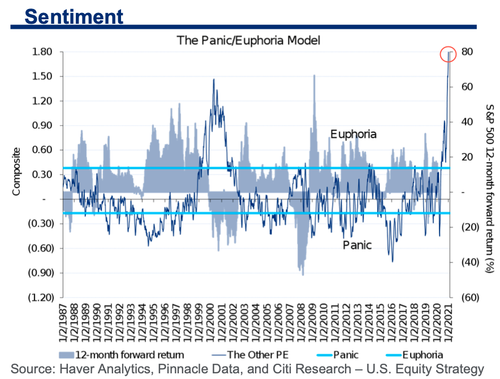 Now, this is funny. 
Joe Exotic shorting from jail: pic.twitter.com/AGzchs92TD

— litquidity (@litcapital) January 12, 2021