The person killed in the latest shooting in or near the so-called autonomous zone in Seattle was a 16-year-old African American male, police officials said.
The victim was initially identified as a black adult male.
A 14-year-old who was riding with the deceased teen remains hospitalized and officials aren't sure what's going to happen with that male, Police Chief Carmen Best told reporters outside the zone.
Crime rates in the area have soared since occupiers took over on June 8.
Known as the Capitol Hill Organized Protest (CHOP), the zone comprises several city blocks in Seattle and encompasses an abandoned police precinct that officers haven't returned to for weeks.
Officers responded around 3 a.m. on Monday after multiple calls about gunfire. They found a white Jeep Cherokee riddled with bullet holes.
People in the area informed officers that medics from CHOP transported the victims to a nearby hospital. One victim arrived at Harborview Medical Center in a private vehicle while another was taken to a meeting point with Seattle Fire Department personnel, who then took the male to the center.
"Our homicide detectives searched the Jeep for evidence but there wasn't much we could find. The typical things we search for in a case like this, or in a shooting like this, weren't there, and it is abundantly clear to our detectives that people had been in and out of the car after the shooting," Best said.
"Detectives are trying to get information from witnesses, but as has been the case in other crime scenes up in this area, people are not being cooperative with our requests for help."
The shooting is the fourth in about a week inside or near the zone.
"It's unfortunate that we have yet another murder in this area identified as the CHOP. Two African American men dead at a place that they claim to be working for 'black lives matter.' But they're gone, they're dead now. And we've had multiple other incidents: assaults, rape, robbery, and shootings, and so this is something that's going to need to change," Best said.
Seattle Mayor Jenny Durkan, a Democrat, pledged last week to dismantle the zone after openly expressing support for it in prior weeks. But the dismantling still hasn't happened. City workers were blocked by occupiers Friday and later left.
"City workers were met with significant resistance by protesters, who grew increasingly agitated and aggressive toward city workers," a city spokesperson told The Epoch Times in an email.
"Safety is the city's first priority, and planning is ongoing for how to safely transition the Capitol Hill area."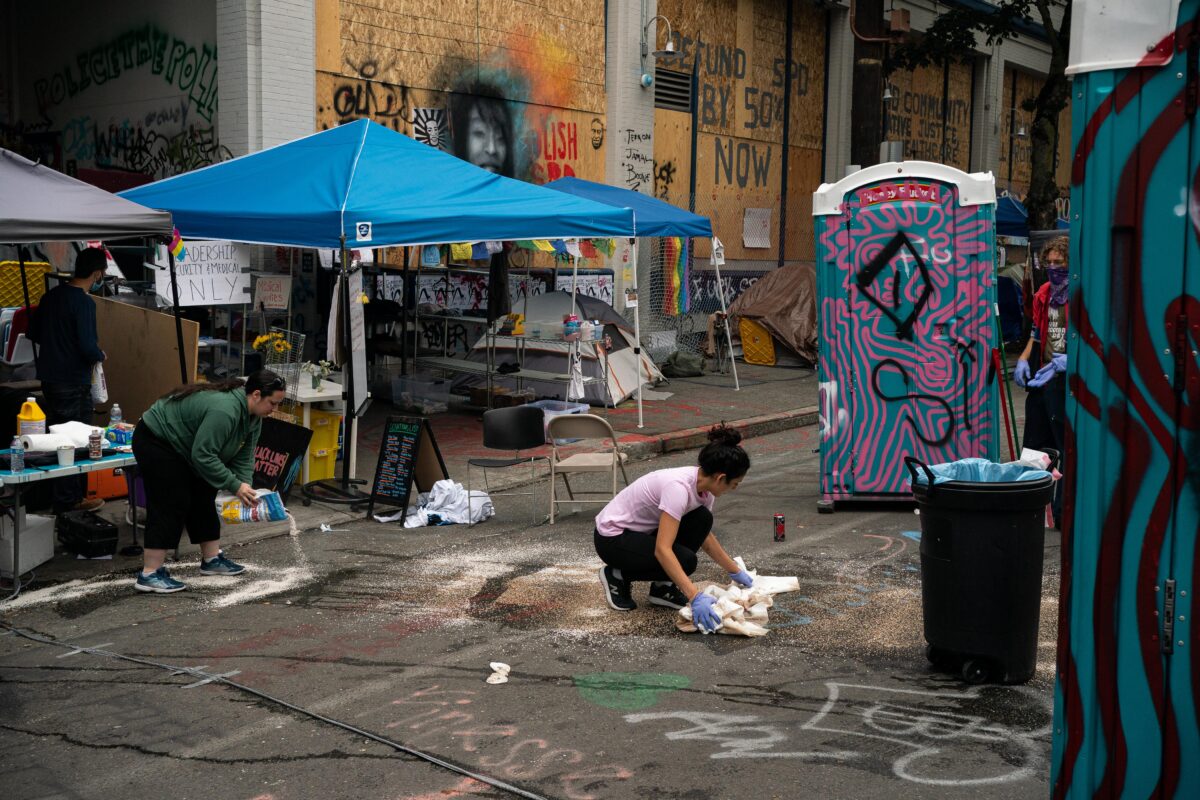 Occupiers are refusing to leave until their demands are met. The demands include abolishing the Seattle Police Department, reparations for "victims of police brutality," and a retrial of all minorities currently in prison for violent crimes.
A spokesman for Durkan didn't respond to an inquiry, including questions on whether the city will use force to disperse the occupiers considering the deadly shootings and elevated crime levels.
Best said the situation couldn't keep going.
"It is absolutely irresponsible for this to continue," she said.
But she repeatedly declined to outline concrete plans for how the occupation would end. Asked where Durkan was, Best said she believed the mayor would be glad to answer questions.
Since meeting with community leaders after occupiers blocked city workers, Durkan hasn't spoken publicly.