The Hunt for a Red October is over… must be the Russians…
More wisdom from Admiral Painter.
Global stocks suffered their worst week since March as it appears the constant liquidity pukage is losing its impact…
Source: Bloomberg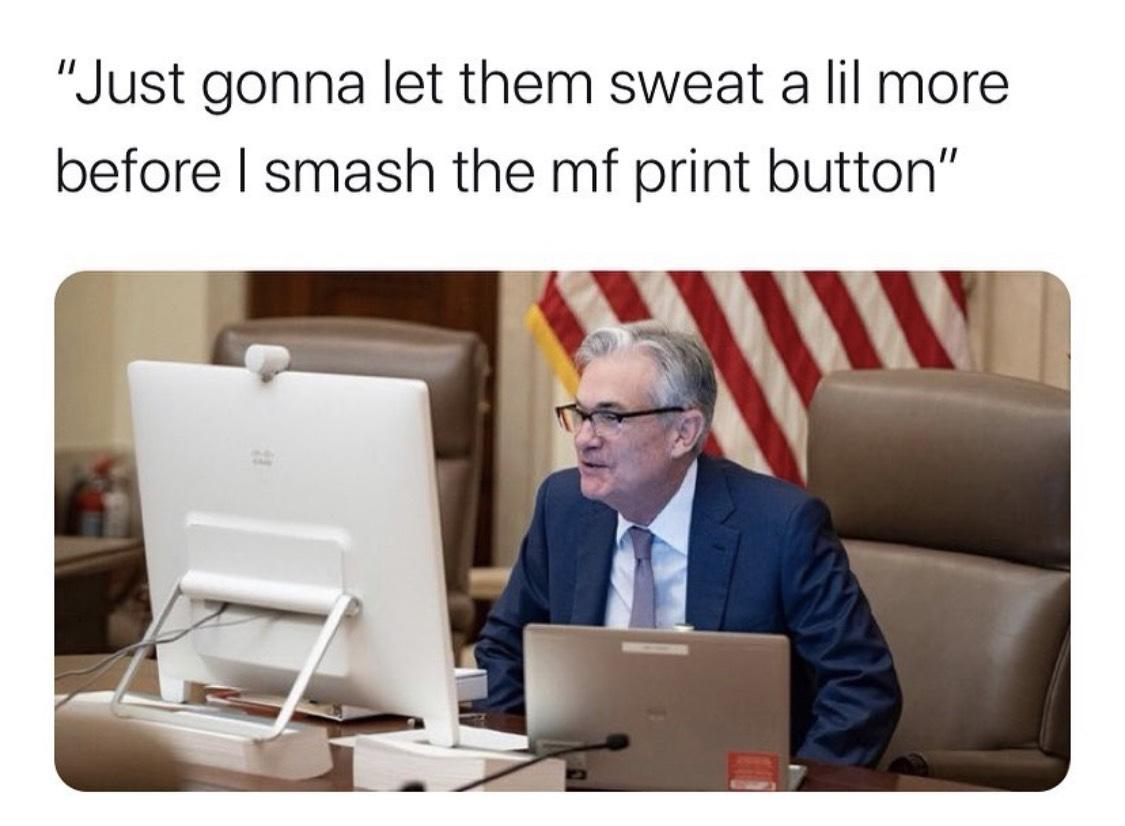 And US stocks (down 6-7% across the board) also saw their biggest weekly drawdowns in 7 months…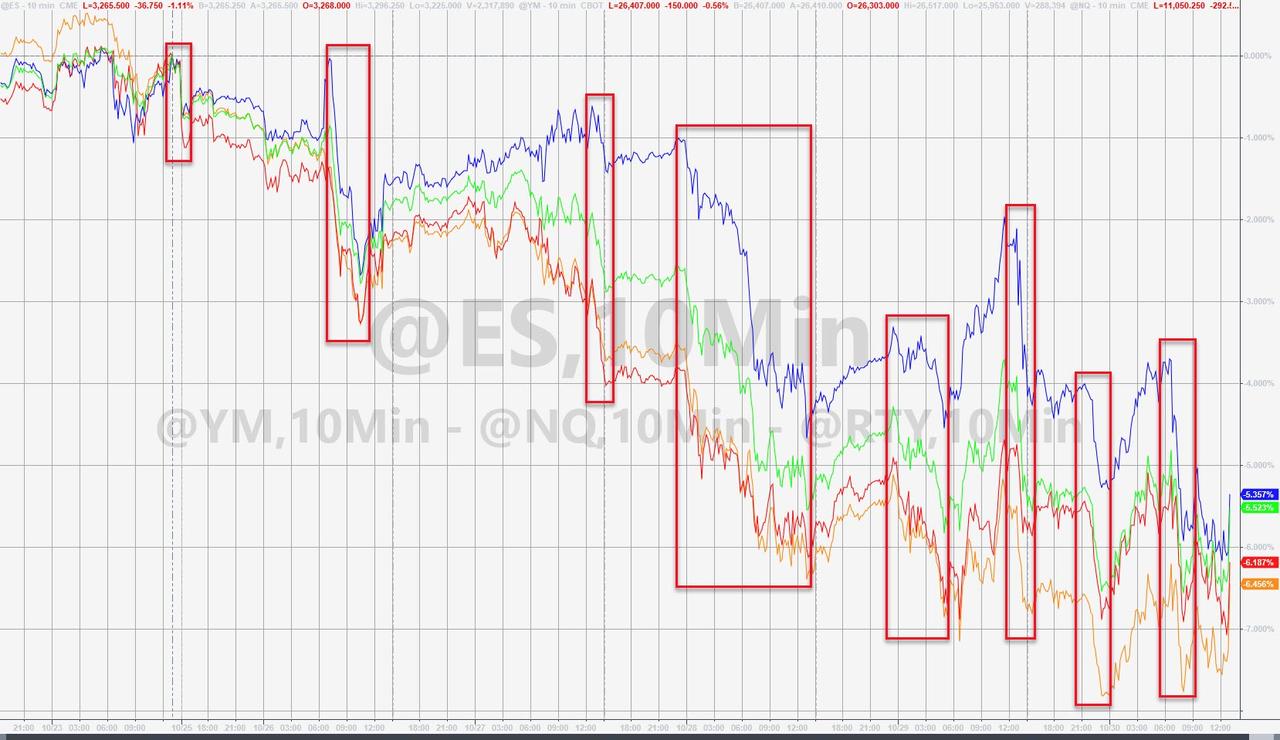 In fact, as Bloomberg notes, the second half of October – essentially since earnings reports began to flood in – the S&P 500 is down 5%. That is the worst performance for the final two weeks of the month of October since 1987's 10.9% plunge – a year that certainly had other extenuating circumstances to account for such a disastrous performance in the back-half of the month. While it bears little resemblance to this year's market context, know that in 1987 equities did not bounce back by the end of that year.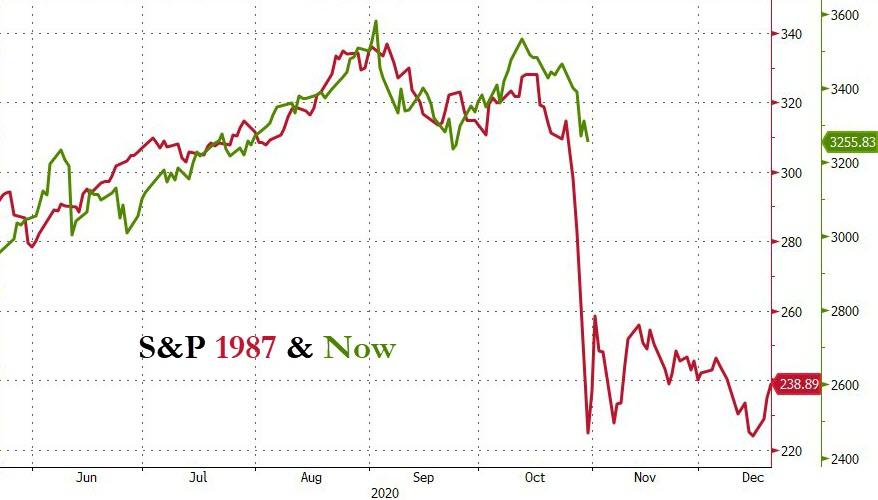 Source: Bloomberg
Additionally, the S&P just suffered its biggest-ever loss in the week before a US presidential election…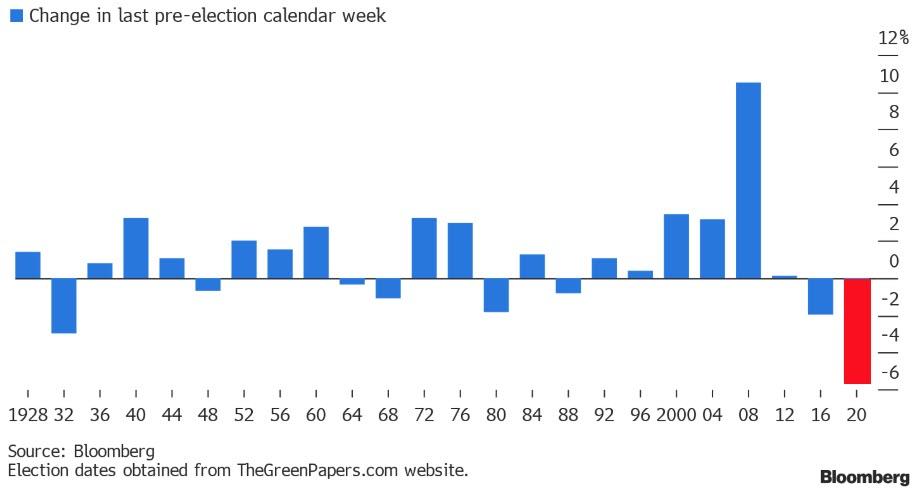 Source: Bloomberg
But we note that the S&P was down 9 straight days into 2016 election… will the pattern repeat this time?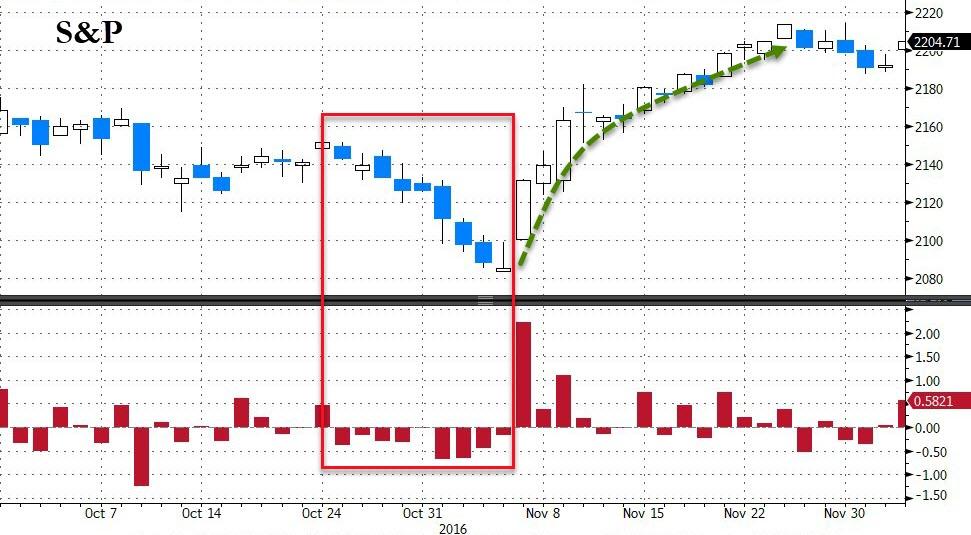 Source: Bloomberg
This was also the worst week for any balanced portfolio as aggregate stock and bond returns were the worst since March…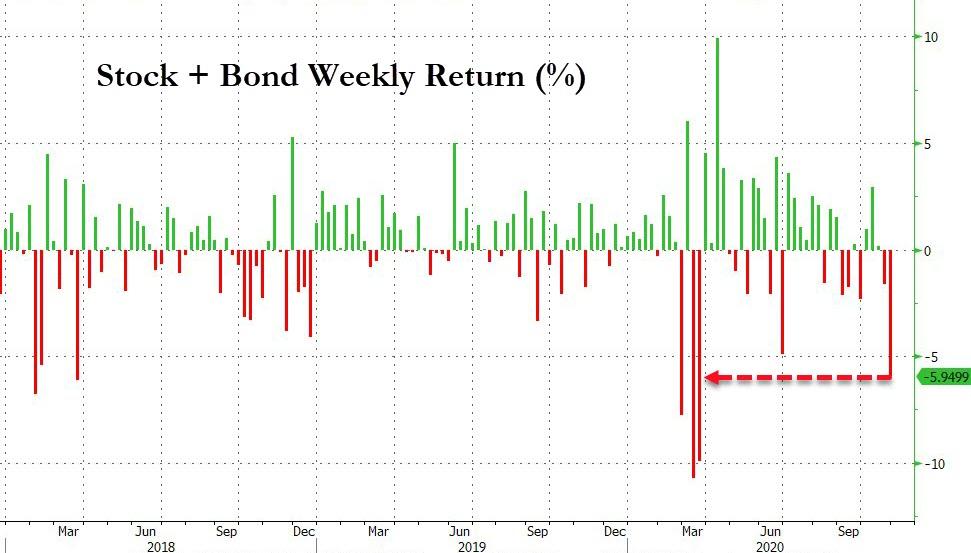 Source: Bloomberg
Stocks were also down for the 2nd straight month (Dow was the laggard with it's worst month since March) leaving the S&P barely holding green YTD. Small Caps bucked the trend with a modest 1.5% gain on the month…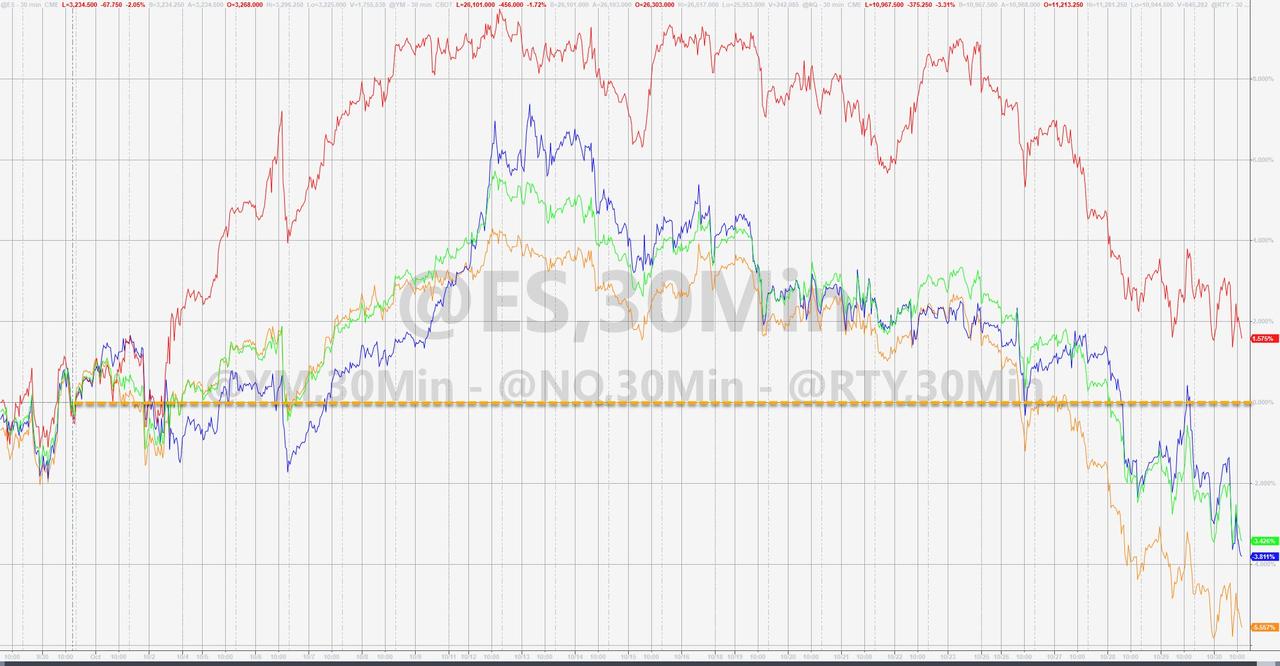 Source: Bloomberg
The Dow and the Nasdaq are both in correction, down 10% or more from their recent highs.
All the US majors are at critical technical levels (Dow at 200DMA, S&P and Nasdaq < 100DMA, Russell ~100DMA)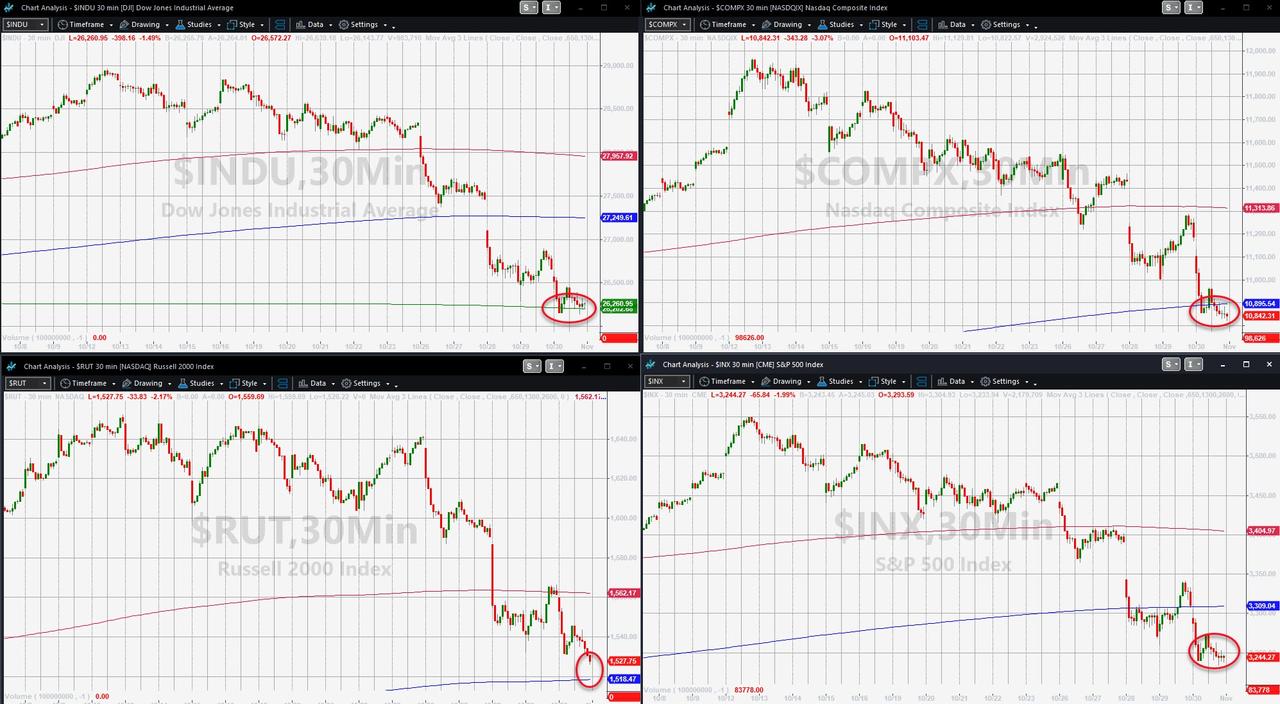 Russell 2000 dramatically outperformed Nasdaq for the second straight month…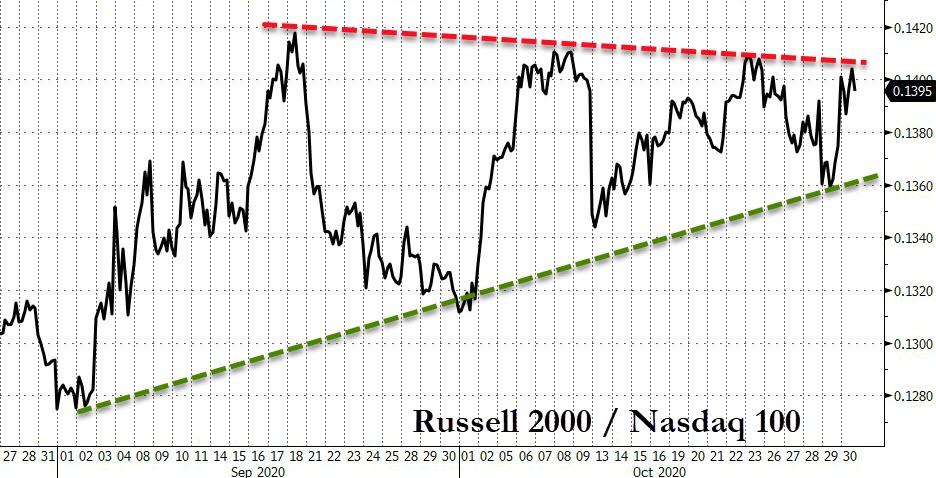 Source: Bloomberg
European markets bloodbath'd even more this week (worst since March also) and worst month since March (closing at lowest since May)…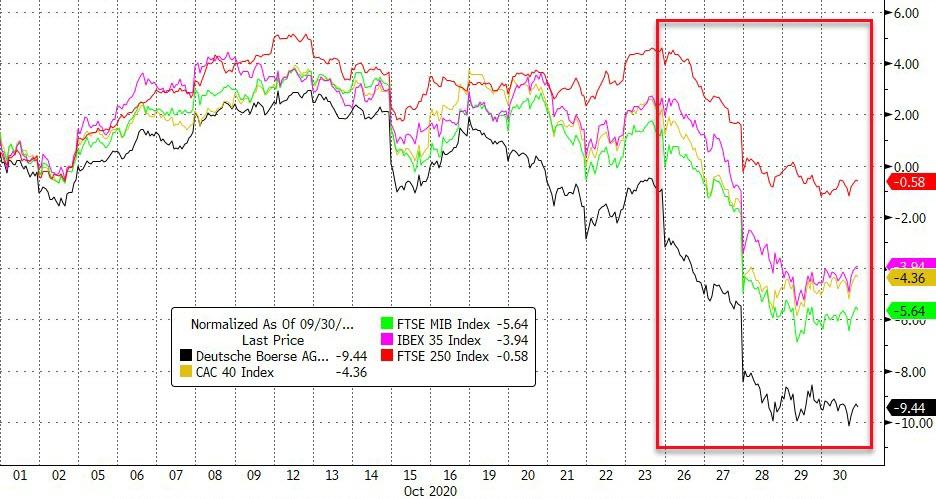 Source: Bloomberg
It seem Einhorn was right – the launch of the SPAC ETF marked the top…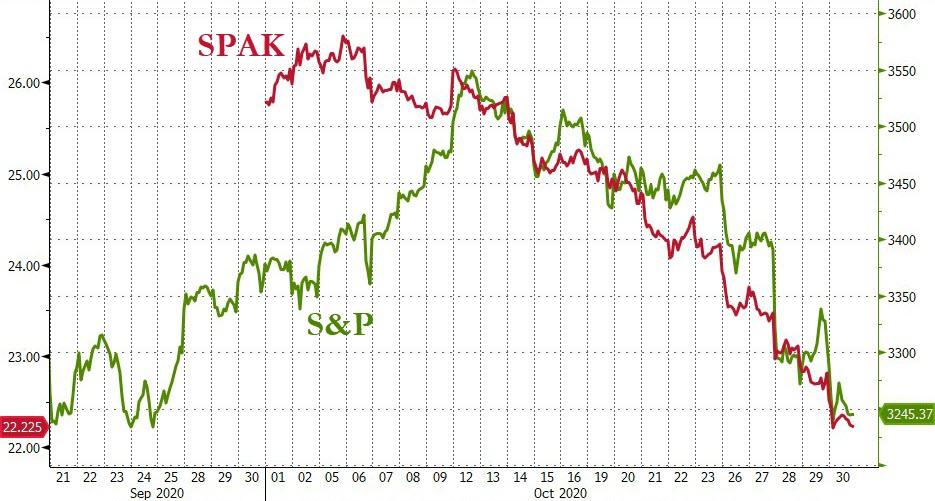 Source: Bloomberg
Back in the US, FANG Stocks ended down for the second month in a row…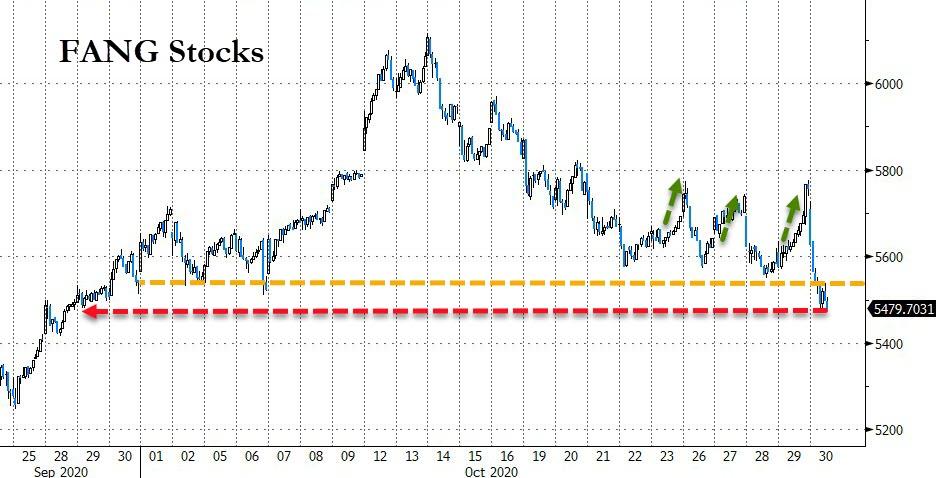 Source: Bloomberg
AAPL has slumped into a bear market from its early September highs…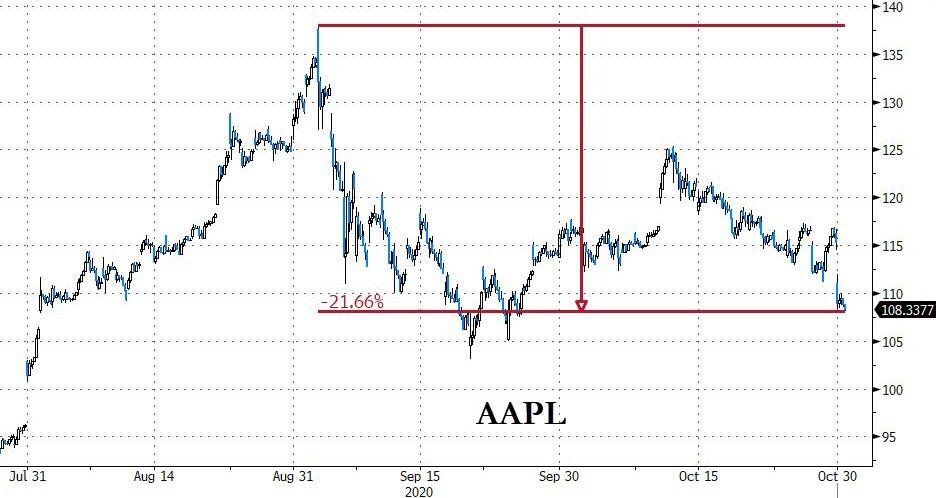 Source: Bloomberg
Rough day for Jack Dorsey's net worth…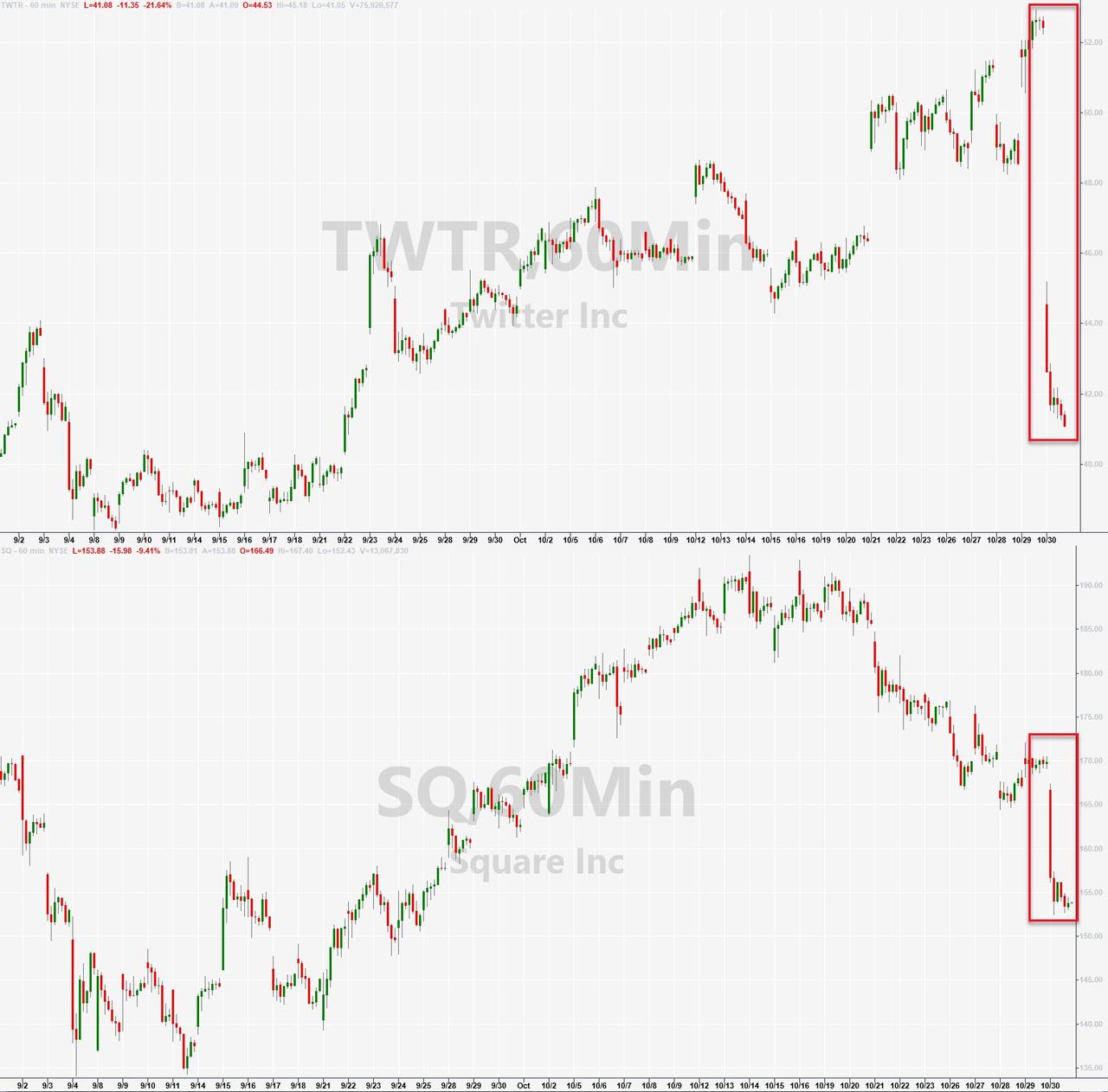 Bank stocks ended unch on the month…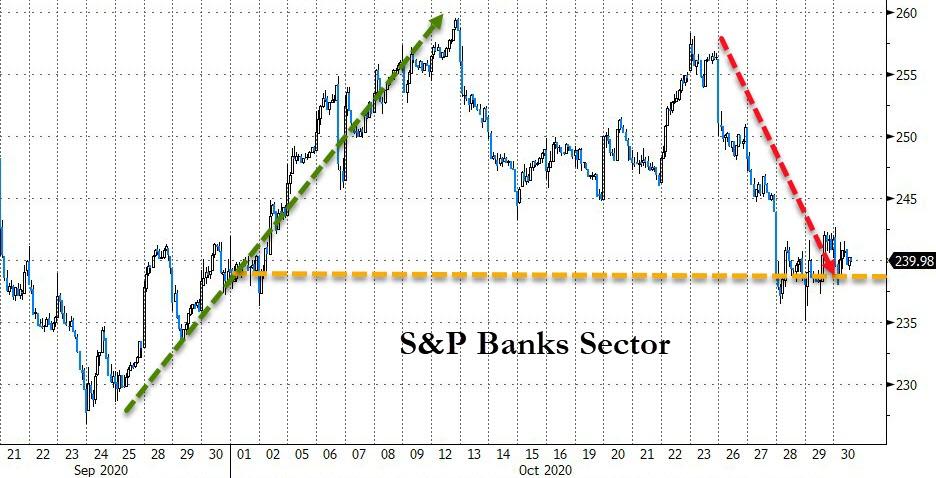 Source: Bloomberg
VIX jumped almost 6 vols on the week – its biggest rise in vol since March…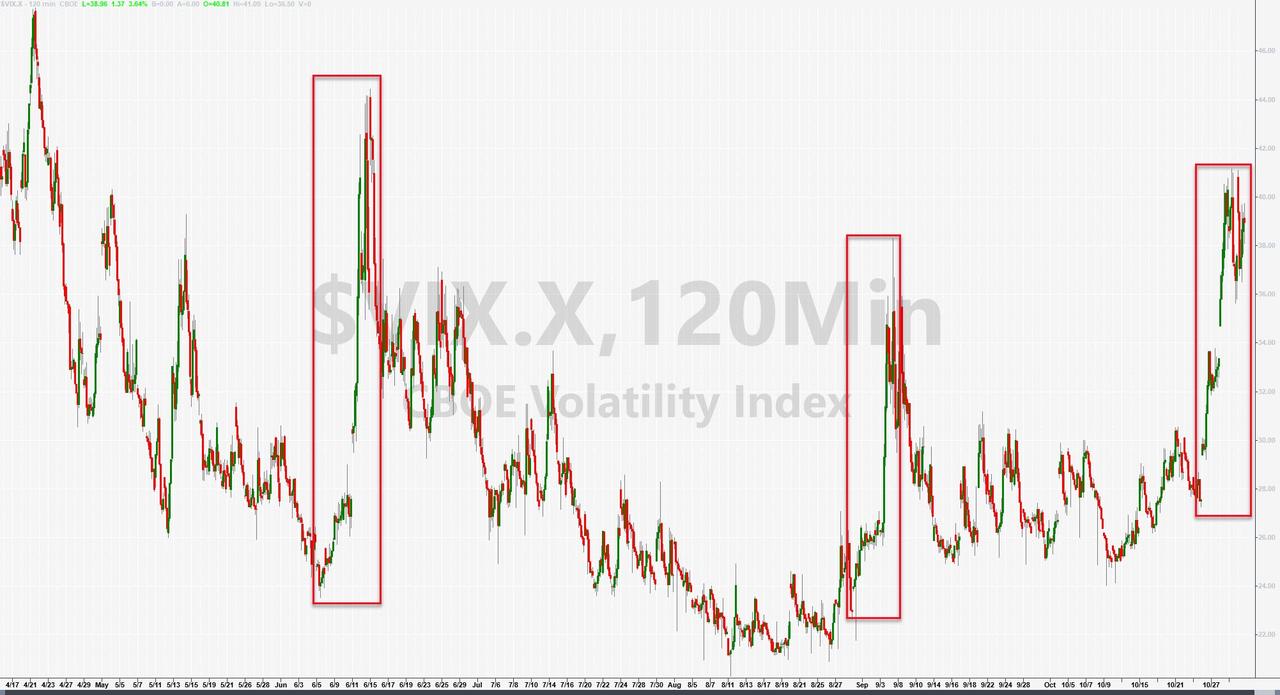 And the VIX curve is now in full backwardation (with the forward curve similar to how it was a month ago but the spike in front-month vol must have crushed any vol carry traders)…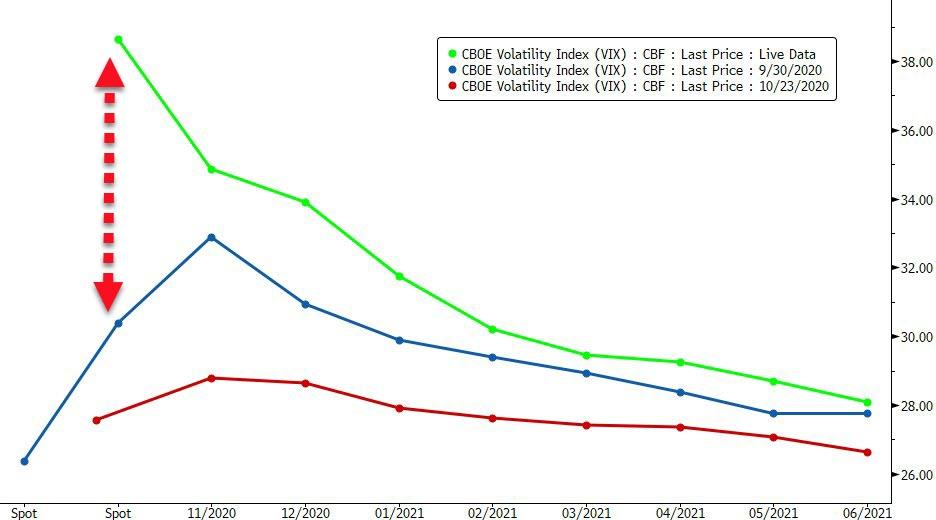 Source: Bloomberg
And while credit spreads have started to crack wider, compared to equity risk, there is a long way to go…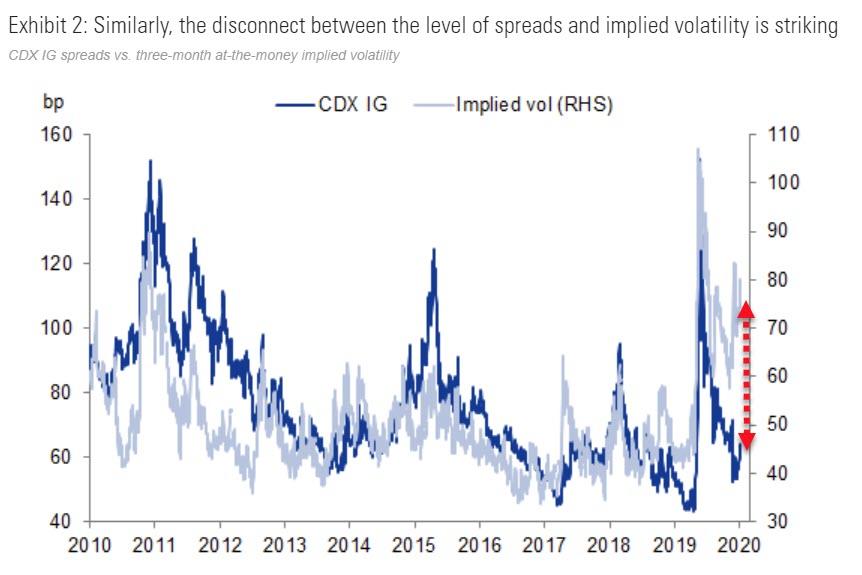 Source: Goldman
On the week, Treasury yields were practically unch – ramping higher after gains early on as liquidations appeared widespread…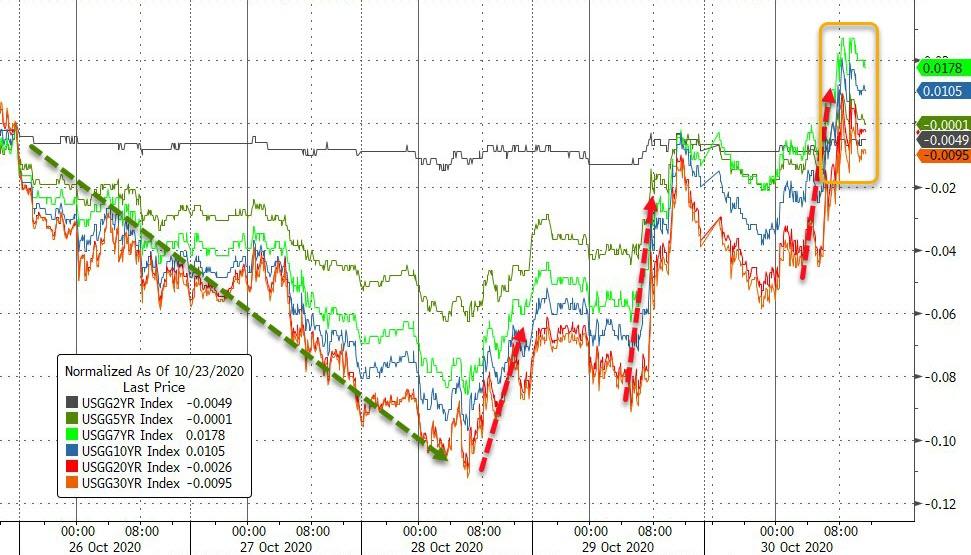 Source: Bloomberg
On the month, yields were notably higher (30Y +18bps) and the curve steeper…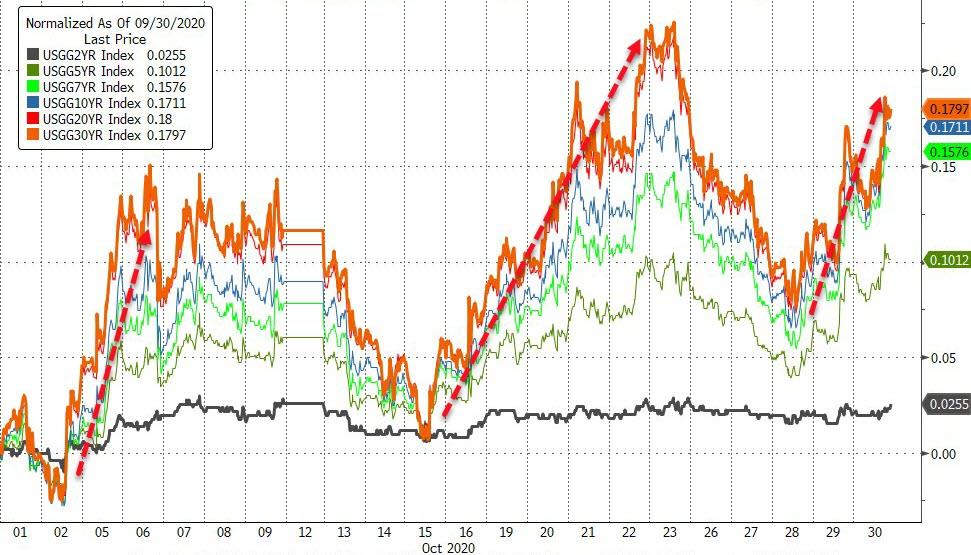 Source: Bloomberg
Not exactly a 'rout' in bonds…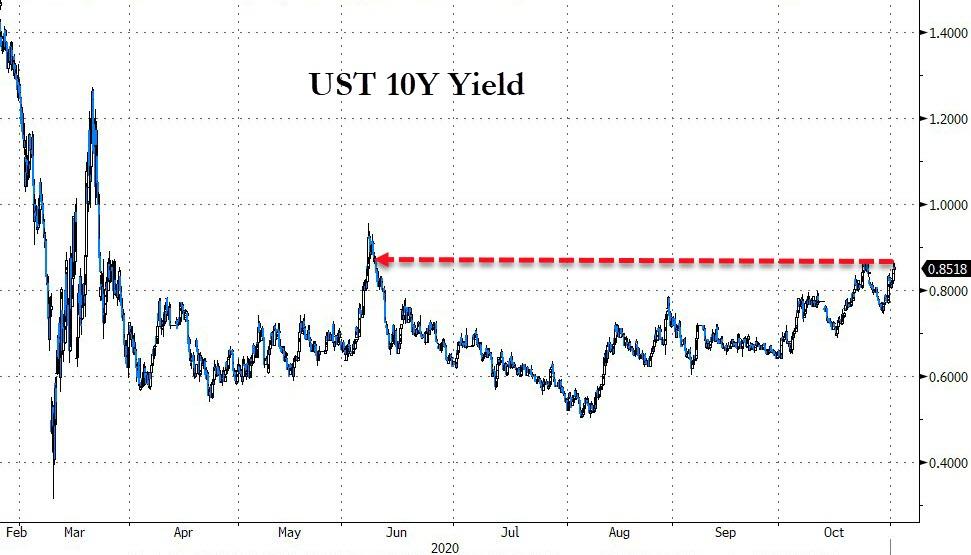 Source: Bloomberg
Despite gains this week, the Dollar was lower on the month (after September's big surge) for the 6th month lower in the last 7…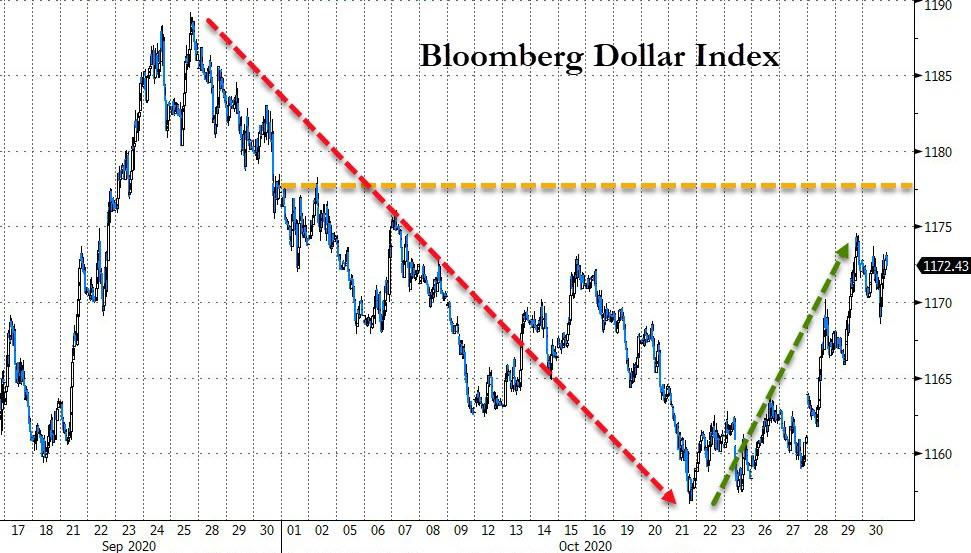 Source: Bloomberg
Cryptos were very mixed this week with a major rotation apparent as altcoins were offered and Bitcoin bid…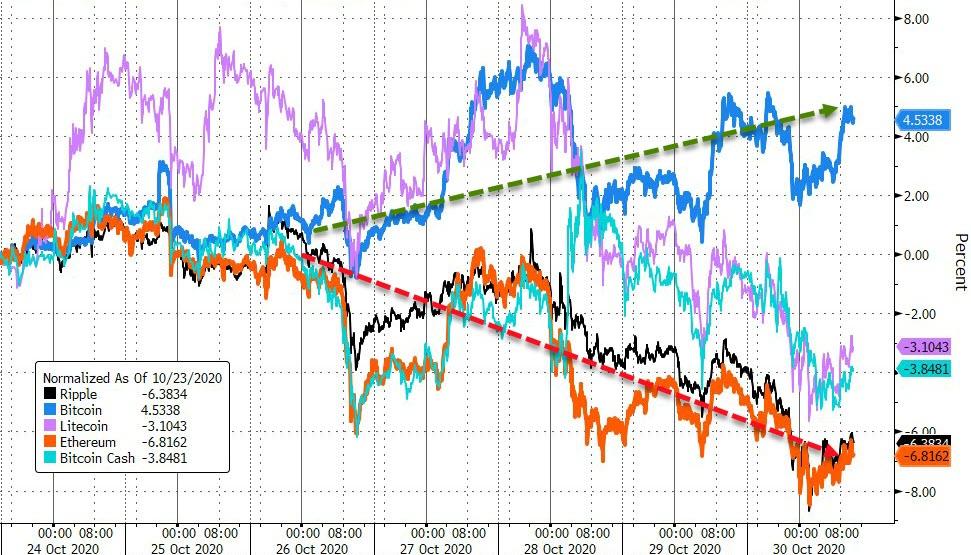 Source: Bloomberg
On the month, Bitcoin led the way, with Ripple lagging…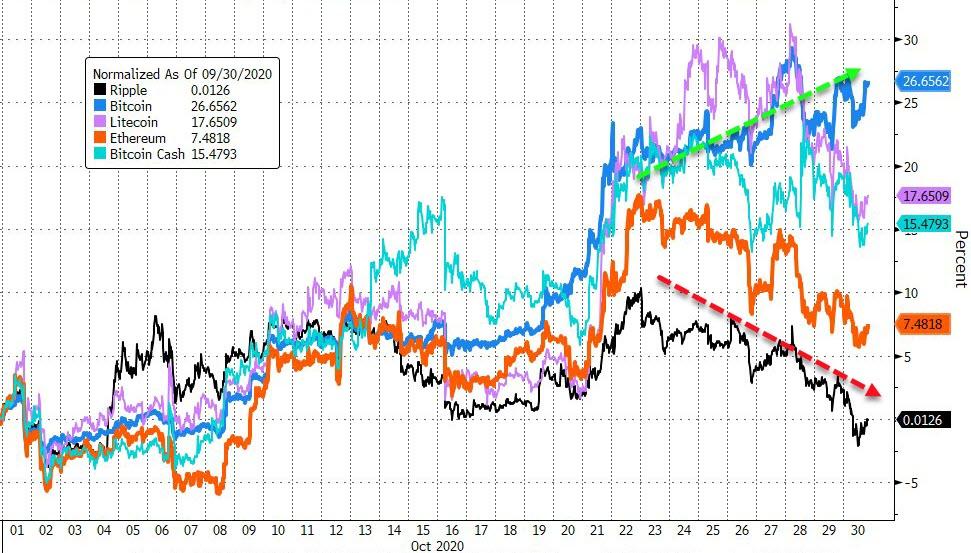 Source: Bloomberg
This was Bitcoin's best month since April, closing above $13500…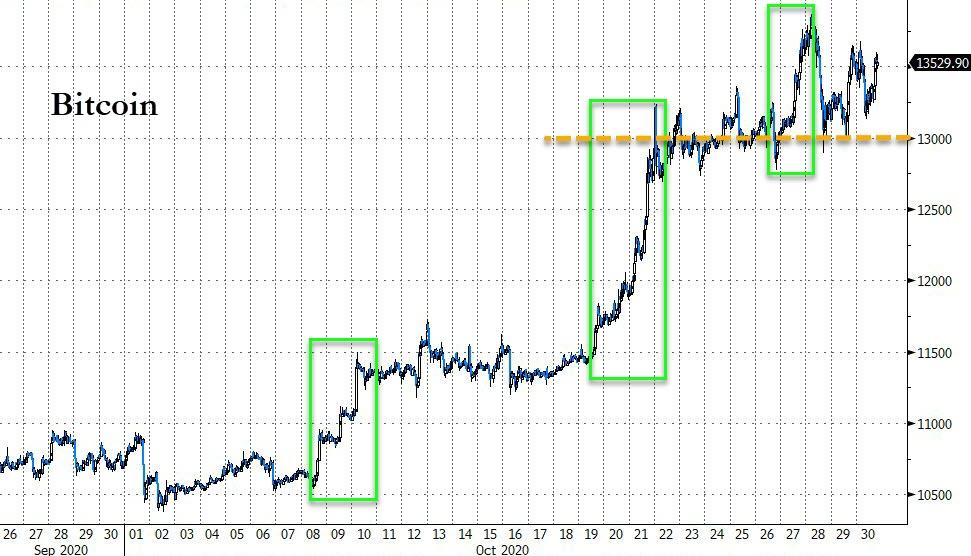 Source: Bloomberg
Ethereum notably underperformed after a solid DeFi-driven surge in July/August…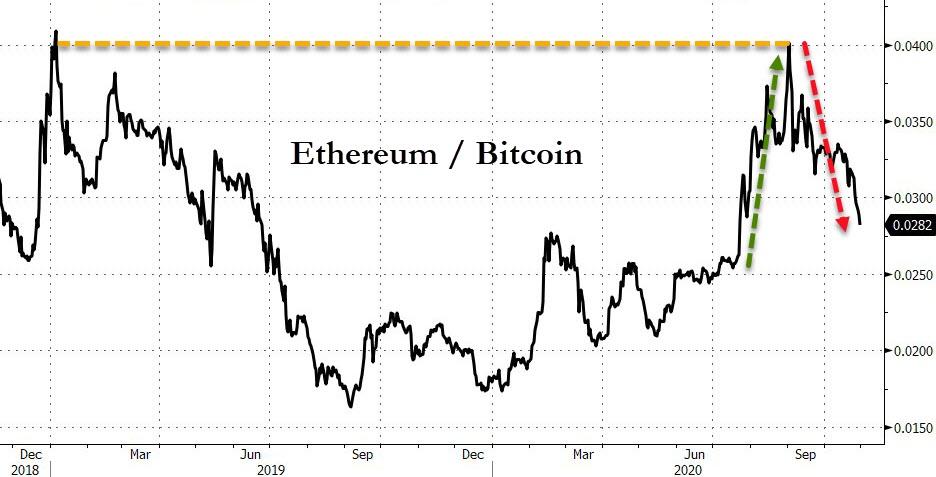 Source: Bloomberg
Crude was clubbed like a baby seal this week (PMs also slipped lower), and also on the month (but PMs managed to hold)…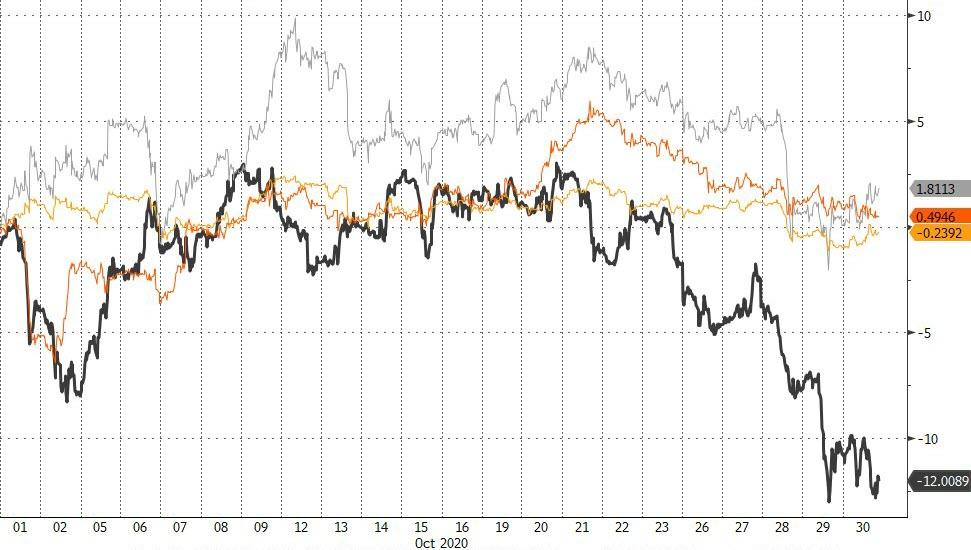 Source: Bloomberg
WTI traded down to a $34 handle this week – its lowest level since May…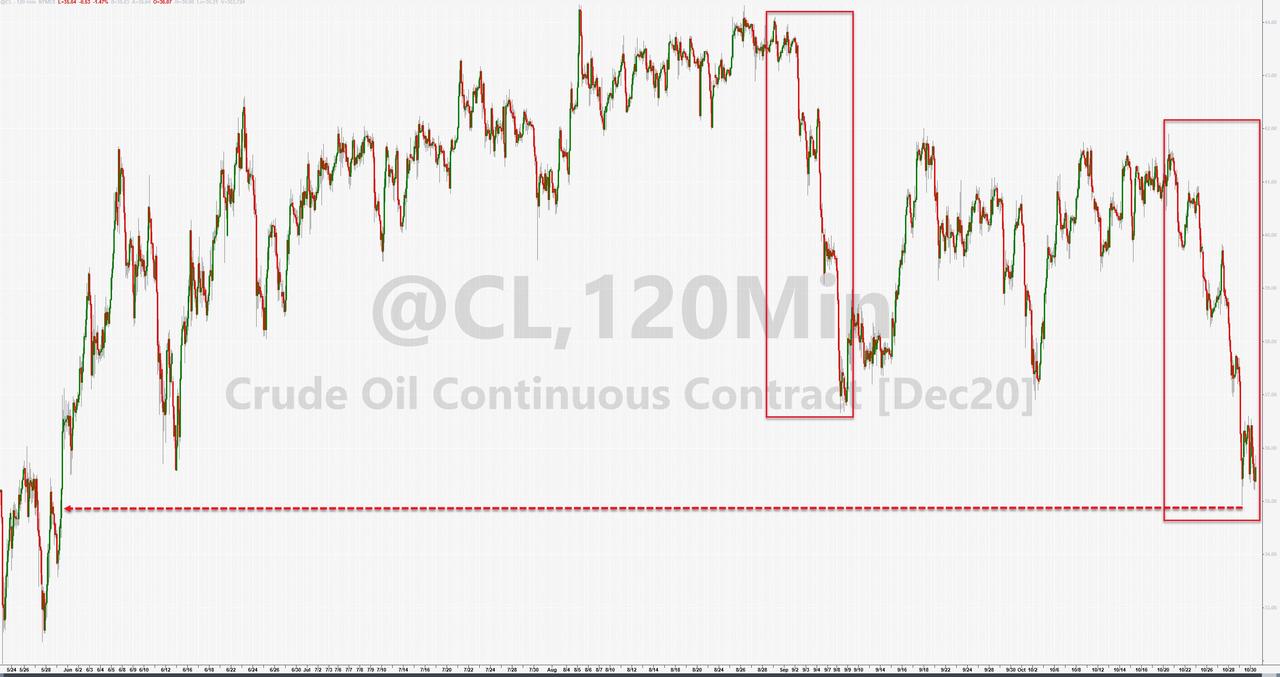 Finally, just on thing to think… "mother's milk" appears to have left the building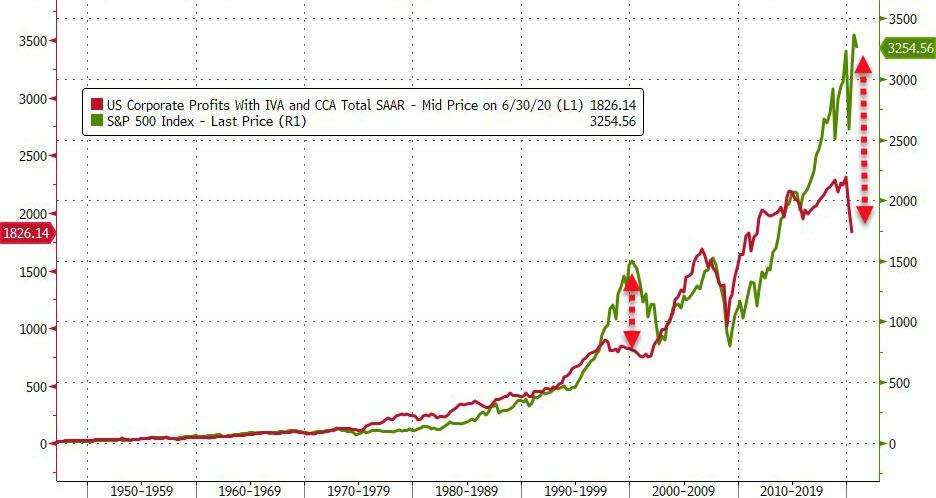 Source: Bloomberg
This could never happen again, right?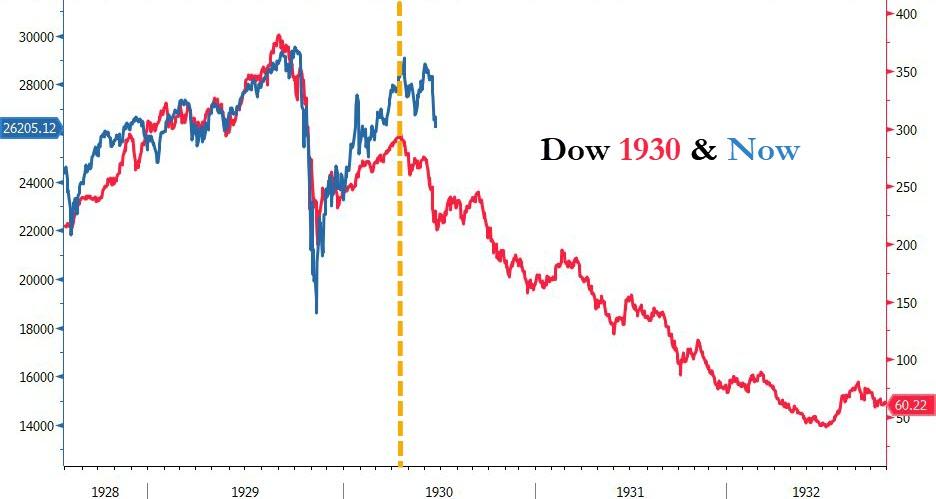 Source: Bloomberg
Oh, and don't panic!! The "Casedemic" will be over soon…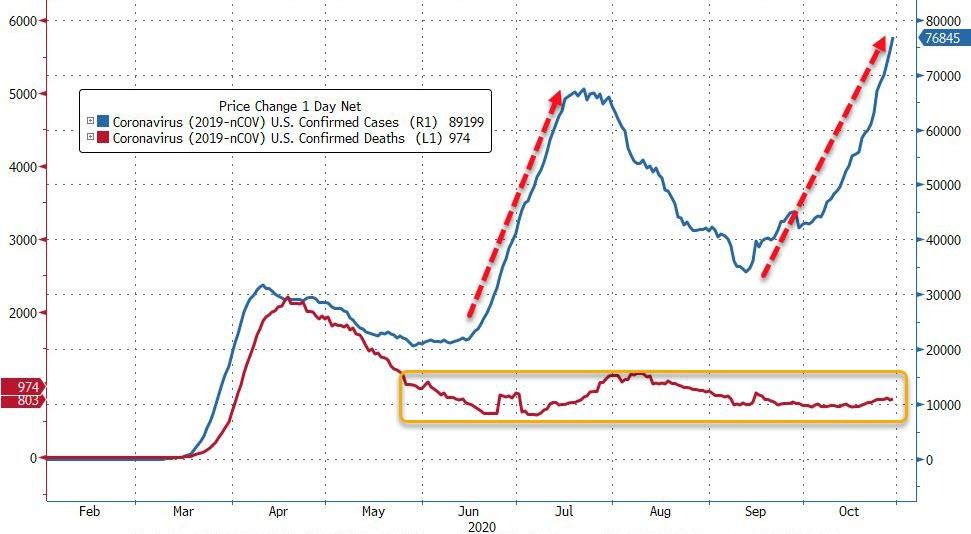 Source: Bloomberg